Paul, kindly decided to take part in this, and set me a page. As ever, his original followed by my annotations: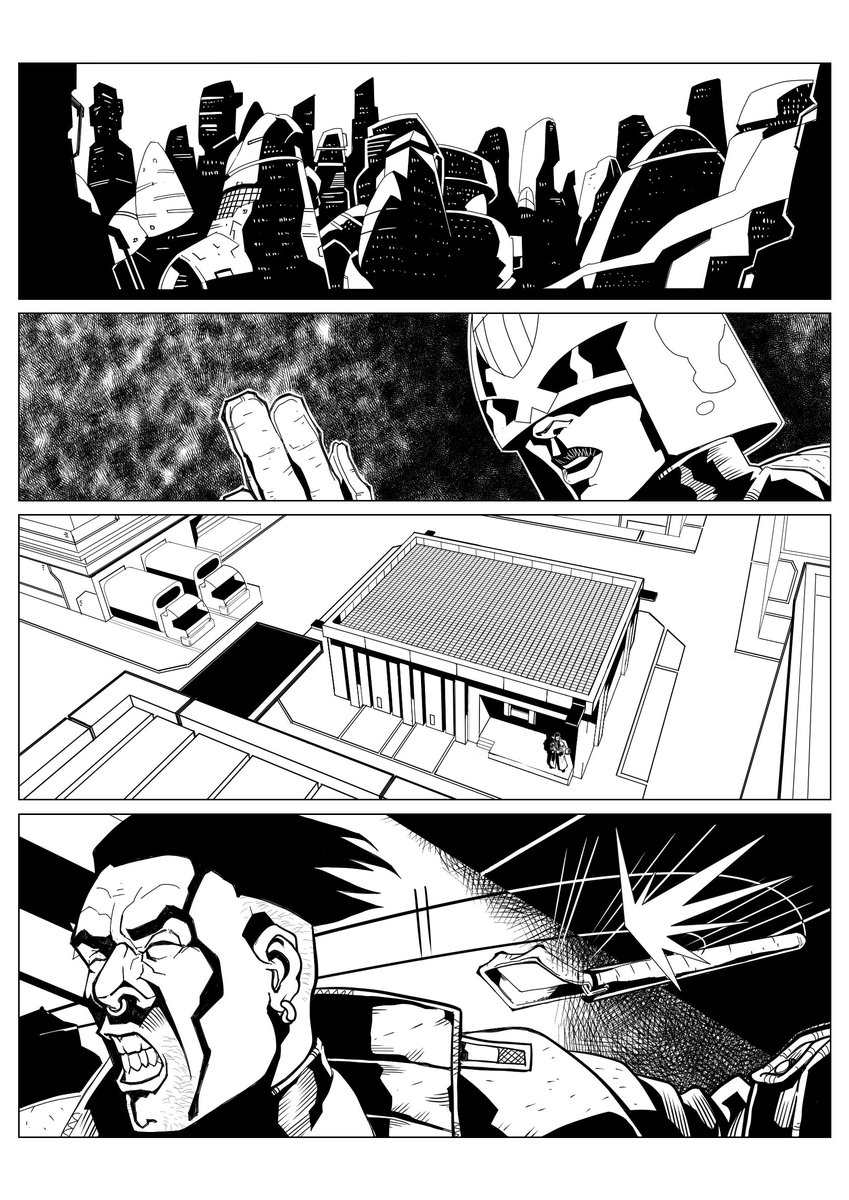 Ok, before we begin: 2000AD is my bread and butter, but I'm always concious that there's a danger with things like this that I'm trying to hammer someone else into the shape of ME, and look – one of me, frankly, as my wife will tell you, is enough. So it's a struggle to try and NOT do that (this is entirely on me, not anyone who contributes). Anyway, taking Paul's page in isolation…
I think my first thought on this was… well, this isn't a comic page – it's four images of four locations that are entirely unrelated as far as I could tell. There was no continuity linking the panels together,  no chain, now clues for the readers that they're four images that are related to each other. So that was my first task, figuring out what's going on.
Panel 1: I do this trick occasionally, where you've got an establishing shot and everything is happening in that location, Paul's original felt small, like a vista of a location. So I opened it up, by bleeding the entire location down the page and by opening up the top it feels bigger somehow – now at least, it's clear that what follows is all happening in the city.
(I also added some spots of light below the panel, in the borders too) to show we're moving deep into the bowels of the city as we read down the page.
Panel 2
I think we have two jobs with this panel, one establish that the Judge-Cadet (if you're a 2000AD reader the fact they're a cadet will be obvious from the white helmet) is near the bloke standing outside the building (a building I decided was a refuelling location) and that the cadet is holding a baton – without this it's unclear where the baton on the last panel comes from. I also added, behind them, the figure of a Judge (cadets are normally accompanied by a senior Judge, and in the dredd world set stories that senior Judge is usually Dredd).
I have them passively watching, because that's the sort of thing that would happen.
Panel 3
It's too clean! I added MOAR SHADOW – we've established it's a noirish strip in that first panel, so we've got to follow through, in the original it's in danger of looking like a CGI rendered cut scene, so I've added shadow to help indicate this is an exterior location (without it it could well be part of an interior) and since it's outside and probably low down in the city, we need dirt and grit and – inexplicably – sheets of a4 paper floating around. I've also added some furniture to the tops of the buildings, just to get away from the perfect square shape of everything. And, deep in the panel, a silhouette of the cadet. It's subtle, but it's there.
Panel 4
As my 13 year old would say "OOF!" It's not terribly clear in in the original whether this is a baton thrown to distract or one that's impacted him and gone further in. So I had to make a choice. My choice – for the sake of impact – was to really get it more visceral and in your face, larger baton, in the foreground, and some blood pouring out and losing a tooth help to give it impact. (Also speed lines, and directional lines pointing to the action).
Everything, EVERYTHING, should be helping to enhance the storytelling; shadows, textures, everything. If they don't deliberately push a reader towards reading what you want them to read then they're sort of useless decoration. Also, and this is entirely on me, I'm not a big fan of the Clip Studio Paint hash brush it tends to show up in a lot of people's work and just pushes any charm or personality or quirkiness of your work out of the way, moving to a homogenous bleh. But that's me.
Anyhue, thanks for asking me to do this, take from it what you will, I think art is pretty solid, this is really about squeezing every millimetre of quality out of a piece of work but like most things is entirely subjective.